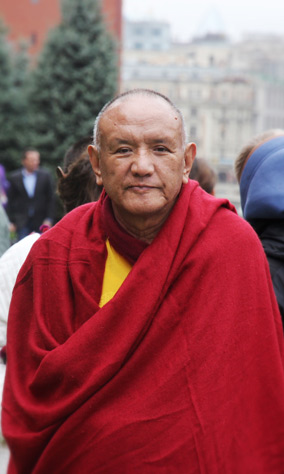 Publication of Orgyen Tobgyal Rinpoche's teachings :


Namthar organizes the transcription into English from the Tibetan recordings of the teachings Orgyen Tobgyal Rinpoche gave in the West and other places over the years. The teachings will be put on-line on a specially dedicated website. The process involves a retranslation from the Tibetan, and editing by experienced Dharma students familiar with Rinpoche.

Orgyen Tobgyal Rinpoche was born in 1951 in the Kham region of Tibet. The son of the third Neten Chokling Rinpoche. Despite the exile, he was raised in a Dharma environment surrounded by practitioner. From an early age he had a strong incline towards the Dharma. Rinpohce is widely known amongst Tibetan lamas for his uncompromising directness, his commitment to the preservation of an unaltered Dharma tradition in general and Nyingma in particular, as well as the power of his practice.

Rinpoche first visited the West in 1975 as attendant of Dilgo Khyentse Rinpoche, who has been his main teacher. He travelled with Khyentse Rinpoche on several other occasions. Since 1996, he has been coming to France with the monks of his monastery to perform the traditional 10 day drupchen practice, practice he is expert at having done more than 370 in his life. These trips were also the opportunity to visit other countries where he also gave some 'talks'.

In all Rinpoche left recordings of about hundred teachings, focussing a lot on helping Western practitioners grapple with putting into pracitce the traditional Vajrayana teachings, as well as providing general understanding of the path, of rituals, and individual advices.

Namthar is supporting the transcription into written English of these teachings, on-line at www.all-otr.org, free of charge.
Return