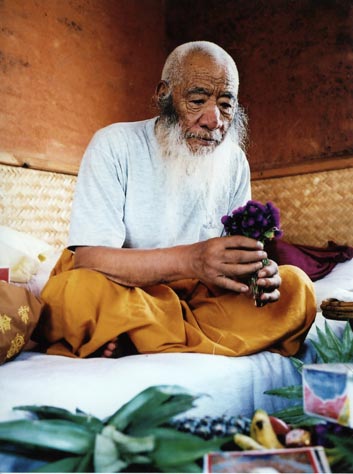 A book by Chatral Rinpoche :


In February 2011, Gala Surovegina went to visit the home of the centenarian master Chatral Rinpoche gave four texts: a poem revealed by Sera Khandro which sings of the life of Guru Rinpoche; a brief Barché Lamsel prayer; a brief Sampa Lhundrupma prayer; and a terma, revealed by Dudjom Lingpa, showing that tobacco is a threat to the practice of Dharma, and presenting a powerful practice for its abandonment. It was Chatral Rinpoche's advice to recite each of these every day. Upon receiving these texts in Tibetan, Gala wished to sponsor their translation in the hope that many could benefit from this powerful gift.
In Pharping Nepal in January 2104, Gyurmé Avertin discussed on behalf of Namthar the vision of publishing these four texts with Christina Monson, a long term student of Chatral Rinpoche. Fortuitously, Christina, together with Chatral Rinpoche's closest western student Yeshe Dorje, had been in the process of translating and preparing some of Chatral Rinpoche's own writings for a free publication. These include a text explaining the beneficial qualities of stupas, a text explaining the benefits of saving lives, and a text explaining the beneficial qualities of prayer wheels. These three pieces highlight the emphasis Chatral Rinpoche placed on such enlightened activities within the context of his own sublime and ceaseless efforts to benefit sentient being.
In addition to these three pieces, Rinpoche's daughter encouraged us to include a song of yearning devotion – a "Calling the Lama from Afar" supplication – as well as a short Guru Yoga practice, both written by Chatral Rinpoche. Arthur McKeown translated the latter and both Arthur McKeown and Lama Chonam Wazi offered their language and translation expertise to further refine and perfect all of these works.
Finally, it seemed auspicious to combine all the translations into one volume, and with Chatral Rinpoche's full blessings and Seymo Saraswati's guidance, this is how the project evolved into the present volume. Instructed to offer these texts to as many people as possible, we are delighted to offer this volume freely to people genuinely interested in reciting them.
Return